This week WhatTheyThink launched its 2021 Technology Outlook – a resource guide designed for you to quickly learn about new innovations from industry analysts and thought leaders. It includes five technology focus areas: digital printing, labels & packaging, software & workflow, wide format & signage and textiles & apparel, and finishing.
As part of the software & workflow technology focus, David Zwang of WhatTheyThink chatted to our VP of products and services, Eric Worrall, about digital front ends (DFEs), the elements that comprise a DFE, and the recent launch of Global Graphics' SmartDFE™, a complete single-source software and electronics stack that does everything from job creation through to printhead electronics, and a vital component in the smart factory of the future. Smart factories are designed to autonomously run the entire production process and this will include the print subsystems.
Watch it here: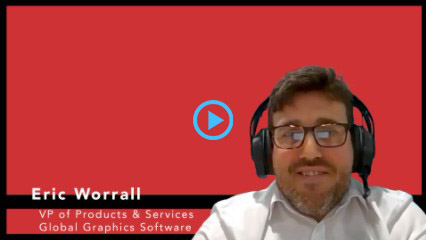 To find out more about the smart factory and the smart digital front end, visit our website.
Be the first to receive our news updates and product news. Why not subscribe to our monthly newsletter? Subscribe here