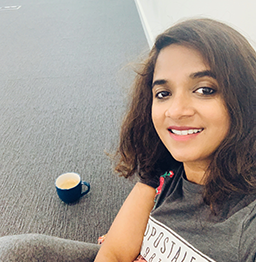 Meet Lavanya, one of our software test engineers. Lavanya joined our print team in 2014.
What is your background?
I was born in India and moved to the UK in 2007. I am from an electronics and communications engineering background and my love towards artificial intelligence, mathematics, automation and electronics has helped me progress academically and pursue an MSc and a PhD.
I enjoyed singing back in India, performing at various shows since childhood and finally managed to sing in a professional capacity for a couple of albums in our regional language. I now enjoy working with my boys making pet electronic projects in the spare time.
What were you doing before and how did you come to work at Global Graphics Software?
I worked as a senior integration engineer for Vix Technology Limited in Cambridge for seven years before joining Global Graphics in 2014. Although I had no experience of the printing industry, I had a great interest and curiosity in it, and I felt there would be a lot to learn with Global Graphics' technology and software.
What is the best thing about working at Global Graphics Software?
I have never had a boring day in the past eight years; there is no limitation on how much I can learn and grow personally and professionally here at Global Graphics. I have been given opportunities to enhance my skills, knowledge and capabilities throughout my past eight years with the industry's most experienced and helpful colleagues. I also love the Cambourne-based office and its location – it's great and peaceful for my lunch time walks.
What has been your career path since joining the company?
I joined the print team, working in automation, and I have since developed skills in color management.
What is the most exciting thing about your work?
I love the fact that I can explore and learn any area, and you are welcomed to do so. I always got great support from my colleagues and my line managers, which makes it exciting to move forward.
What keeps you here?
There's always more to learn here and my colleagues are very experienced and helpful. I also always get the support I need to do my continuous professional development.
If you're interested in joining Global Graphics Software visit our web page to find the latest vacancies: www.globalgraphics.com/careers