Ever wondered what a raster image processor or RIP does? And what does RIPing a page mean? Read on to learn more about the phases of a RIP, the engine at the heart of your Digital Front End.
The RIP converts text and image data from many file formats including PDF, TIFF™ or JPEG into a format that a printing device such as an inkjet print head, toner marking engine or laser platesetter can understand. The process of RIPing a page requires several steps to be performed in order, regardless of whether that page is submitted as PostScript, PDF or any other page description language.
Interpreting: the page description language to be RIPed is read and decoded into an internal database of graphical elements that must be placed on the page. Each may be an image, a character of text (including font, size, color etc), a fill or stroke etc. This database is referred to as a display list.
Compositing: The display list is pre-processed to apply any live transparency that may be in the job. This phase is only required for any pages in PDF and XPS jobs that use live transparency; it's not required for PostScript language pages because those cannot include live transparency.
Rendering: The display list is processed to convert every graphical element into the appropriate pattern of pixels to form the output raster. The term 'rendering' is sometimes used specifically for this part of the overall processing, and sometimes to describe the whole of the RIPing process. It's only used it in the first sense in this document.
Output: the raster produced by the rendering process is sent to the marking engine in the output device, whether it's exposing a plate, a drum for marking with toner, an inkjet head or any other technology.
Sometimes this step is completely decoupled from the RIP, perhaps because plate images are stored as TIFF files and then sent to a CTP platesetter later, or because a near-line or off-line RIP is used for a digital press. In other environments the output stage is tightly coupled with rendering.
RIPing often includes a number of additional processes; in the Harlequin RIP® for example:
In-RIP imposition is performed during interpretation
Color management (Harlequin ColorPro®) and calibration are applied during interpretation or compositing, depending on configuration and job content
Screening is applied during rendering or after the Harlequin RIP has delivered unscreened raster data if screening is being applied post- RIP, when Global Graphics' ScreenPro™ and PrintFlat™ technologies are being used, for example.
These are all important processes in many print workflows.

The above is an excerpt from our latest white paper: Scalability with the Harlequin RIP®.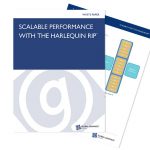 Download the white paper here. 
To be the first to receive our blog posts, news updates and product news why not subscribe to our monthly newsletter? Subscribe here