This month we're celebrating the 20-year anniversary of our Japanese office. We chatted to sales director Hagiwara Yoshiyuki who told us how it all began, how the market has changed and what's next for his team: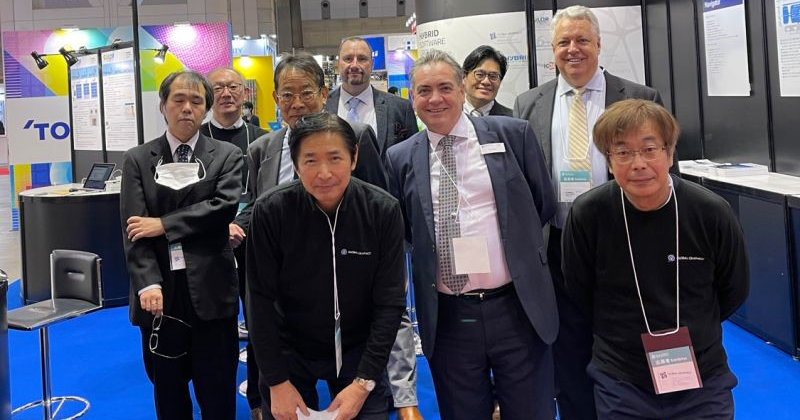 Tell us about your background. What did you do before you joined Global Graphics Software?
After graduating from university, I worked for a Japanese office computer manufacturer, developing various controller boards, ASICs and semi-custom large-scale integrations. The printer controllers I designed were very successful and widely installed not only in Japan, but also in Europe and Oceania. We were one of the first companies to develop a serial impact printer that prints Kanji characters for the office market. I designed many controller boards and firmware for laser printers, inkjet printers and RIP servers for large format printers. I then set up the Japanese subsidiary of a US company providing PostScript Level 2 interpreter software licenses to printer and MFP manufacturers.
After working with several foreign companies that developed RIP servers and embedded controllers, I established Global Graphics KK as a Japanese subsidiary in 2003.
Tell us about the early days with Global Graphics KK
Initially I rented the smallest room from Servcorp, an office rental company offering fully furnished spaces. On seeing my office, Gary Fry, former CEO with Global Graphics PLC, commented that it was 'smaller than an elevator'. Over the years I've employed more engineers and have changed rooms several times to accommodate us. Today, we are five very talented engineers.
Back in 2003, I offered solutions for the Harlequin RIP® and the PDF creation software, Jaws PDF Creator™. My first customer was Justsystem. We developed the Justsystem PDF Creator, which was sold as a standalone packaging application then bundled as part of their Ichitaro word processing software. Ricoh Ridoc and Fuji Xerox DocuWorks followed.
Today, the team supports a range of products from Hybrid Software Group including, Harlequin, Mako Core™ and SmartDFE™ from Global Graphics Software; color management solutions ColorAnt, CoPrA, ZePrA from ColorLogic; pre-press software for packaging STEPZ®, PACKZ® and CLOUDFLOW® from HYBRID Software; and 3D rendering software for packaging from iC3D.
How has the market changed over the last 20 years? You must have seen a lot of changes.
Yes, there have been many changes:
Firstly, companies that used to develop everything in-house are starting to consider using ready-to-integrate products, which offer a faster time-to-market. Our SmartDFE is ideal for this.
Secondly, the decrease in profits from office MFPs and printers, partly due to less paper being printed to help the environment, means office printer manufacturers are expanding their reach into industrial inkjet printing.
In addition, we're seeing growth in digital printing, especially printing customized products on demand and in the labels and packaging sector. We're seeing many new applications, for example, textiles and décor, due to the non-contact printing characteristics of inkjets. Digital inkjet is also growing as it meets many of the Sustainable Development Goals (SDGs).
Ways of doing business are also changing, with more cloud-based solutions and there's also the introduction of 3D printing.
How important is sustainability in print to the Japanese market? Have you noticed a change in your customers' requirements so that they can meet their sustainability commitments?
From a sustainability perspective, it's essential that we consider the SDGs when developing new products and it seems to be easier for a company to follow through with their plans when they are linked to those goals. The amount of ink, electricity and iron needed for large-sized printing machines cannot be ignored. Also, as I mentioned earlier, we need to consider new ways of working to eliminate paper usage.
What's next for you and your colleagues?
We will focus on promoting ready-to-integrate products, such as SmartDFE. In addition, as an ambassador for the Hybrid Software Group, we'll focus on promoting the Group's industry-leading products.
What do you enjoy most about working at Global Graphics KK?
It's said that Japan is 'the world's printer factory' where there are many printer manufacturers. This has certainly been an advantage; I enjoy building on my experience as a printer controller developer and using my knowledge of PostScript to ensure the best outcomes.
To be the first to receive our blog posts, news updates and product news why not subscribe to our monthly newsletter? Subscribe here