Meet Srikrishna Nudurumati, Global Graphics Colour Scientist and a member of our Fundamentals BreakThrough Engineering Services team. Srikrishna is passionate about colour and has many years of experience working in the field. We asked Srikrishna a few questions so you can get to know him better: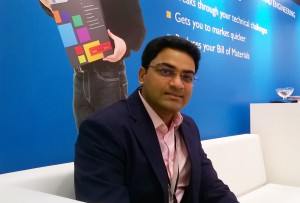 In his own words …
Tell us about your job. What do you do?
Broadly, I am a physicist with specific interest in applications of colour vision & imaging research to software products. In my current role at Global Graphics, as a Colour Scientist, I lead the research & development to ensure best quality reproduction with our products as well as for our customers through our software and engineering services package, Fundamentals.
What is the best thing about your job?
An exceptional aspect about my job in colour imaging is that colour is also my hobby. What more? Time is the only limit. We at Global Graphics, strive continuously, helping our customers to be the first to embrace the latest advancements in the industry. I am glad to be at the forefront, influencing to provide the best to our customers.
Tell us about the path you took to get where you are today
My academic background stems from remote sensing, satellite imaging, digital photogrammetry and colour image processing. I have gained considerable practical knowledge of computer vision, pattern recognition and machine learning on the job during my initial assignments as a junior researcher. My IT career path from a software programmer working in medical imaging, to a researcher in colour engineering software was not planned. I strongly believe in Kaizen, even for improving one's knowledge. During the past twelve years, I have made it a mandatory part of my daily schedule to learn something new and I continue this tradition today.
What is the biggest lesson you've learned in your career so far?
I have been a part of the IT industry, as a software design engineer and also briefly in academia as a PhD researcher. I am happy to have learnt numerous invaluable lessons in my career so far already. It is imperative to align one's interests with the general mission and goals of the organisation one works for. Identifying and being a part of an organisation, which facilitates such an alignment defines the first step to success. I work with an entrepreneurial instinct when it comes to defining, scoping and accomplishing my responsibilities, but with alignment to the organisation's goals. That said, everyone in an organisation must be an influencer to whatever extent he/she can be.
As a colour expert, what's the most important aspect of colour in your opinion?
It is an important consideration that we are all different in the way we think of colour and perceive colour. Although colour and vision science establishes these variances to a very large extent, conventional colour engineering has not adopted these quite well. Colour engineering for printing is not based on a single branch of physics, but is a conglomerate of various phenomena, the roots of which lie in different realms of physics. The challenge that a colour scientist tries to address is to make it clear to the end user in an intuitive manner, how each parameter influences the overall quality of reproduction, be it for the display screen for softproofing or a print.
What are the challenges in successful colour engineering for printing?
Colour management workflow for reproduction by printing is much more complex than for colour reproduction on display systems & screens. The physical model of a printing system comprises a colour workflow similar to that of a camera or a display system, but additionally deals with ink-media physical and optical interaction, grey balance, multilevel colourants, screening or halftoning, effects of metamerism and user preferences etc, in the form of inverse models. Added to these are the uncertainties in the reproduction chain. This could be uncertainty in the actual printer gamut, uncertainty in the printer mechanical behaviour in the field, differences in viewing environment etc. It is a challenge to provide the end users a system which makes them oblivious to the intricacies of the underlying mathematical models that transform the colour seamlessly from image capture to printed reproduction. We at Global Graphics provide our customers with a simplified view and controls for colour management, to tune their systems. This lets them focus their efforts in bringing out their creativity without worrying about numerous parameters that they would otherwise have to balance manually.
About Fundamentals



Fundamentals offers inkjet press manufacturers a quicker way to get their presses to market. It is a new concept that combines the software products that are essential to create your Digital Front End with our BreakThrough Engineering Service that helps you overcome the technical hurdles involved in developing a new press. Visit http://www.globalgraphics.com/products/fundamentals for more information.